Recent ENPE activities
French activity - ENPE articles in L'Observatuer de Bruxelles and the Revue ENM and the establishment of AFME 
We are pleased to report on some really good work by our French-speaking ENPE colleagues in publicising the work of ENPE, and in strengthening the fight against environmental and environmental health crime in France.
Our colleague and LIFE-ENPE project board member Dr Carole Billiet has written a paper in the publication L'Observateur de Bruxelles, which is seen as the 'eye' of the French judiciary world in Brussels. The paper, available for download below, summarizes the conclusions of the LIFE-ENPE Working Group (WG4) which was led by Dr Billiet and which focused on judicial practises and sanctioning. 
ENPE International Vice-President Mr Jean-Philippe Rivaud has written an article for the Biennial Review of the French National School for the Judiciary (ENM) due to be published in late June. Please see below for these important French language articles, both available for download as a pdf now (see below).
Separately, but on a related topic, Mr Rivaud has been a key figure in the establishment of the French Society of Judges and Prosecutors for Environmental Law and Environmental Health Law - Association française des magistrats pour le droit de l'environnement et le droit de la santé environnementale. On Saturday 05 June, founder members came together in Paris, and virtually by video conference, to sign the association's by-laws to establish the new organisation. Please see below for the English and French press releases for more information.
ENPE annual awards - the Gaia statuette
We are delighted to announce the inauguration of the annual ENPE "Gaia" awards. The awards, in the form of the Greek Goddess 'Gaia' (Mother Earth) will be made in recognition of outstanding contributions to fighting environmental crime. More details will follow, including the criteria for judges, and when and how the awards will be presented, but for now, we have included a picture of the award below. The bronze statuettes, have been designed and cast in Heraklion Crete and are the result of an idea that was conceived in 2019 during a coffee break at the ENPE annual conference held in conjunction with Eurojust at their headquarters in The Hague, Netherlands. 
The previous year's ENPE (2018) annual conference for "Protecting habitats and endangered species in EU", was held at the Natural History Museum of Crete and hosted by our colleagues at the LIFE NATURA THEMIS project. Dr Jorgos Sbokos, NATURA THEMIS project Coordinator (also an Environmental Lawyer and sculptor) had noted the wide-ranging work that was presented at the conference and raised the possibility of an award, given by ENPE to mark outstanding contribution to fighting environmental crime. The ENPE Board agreed that this was an idea worth pursuing, and Jorgos set to work with his sculptor friend, Yannis Kelesis, in designing and casting these beautiful sculptures. We look forward to presenting them to some deserving recipients at our annual conferences for many years to come!
 
ENPE submission for Environmenal Crime Directive consultation May 2021
The department responsible for EU policy on justice, consumer rights and gender equality - the Directorate General for Justice (DG JUST) recently published a Roadmap on the revision of the Environmental Crime Directive (ECD). A focused public consultation was launched in early 2021, with submissions allowed until 04 May 2021. ENPE put together a working group comprising ENPE members from 8 different European States in order to get as complete a picture from our prosecutors as possible and provide a co-ordinated submission reflecting the views of our members. Our submission was made on 30 April 2021 and is available, together with the covering letter, as a downloadable pdf below.      
ENPE General Assembly meeting 25 November 2020
ENPE members were invited to attend the annual ENPE General Assembly meeting which this year, due to restrictions around travel and face-to-face meetings, was held remotely via video conference. The meeting was very well attended and included the ratification of Aisling Kelly as the new ENPE Treasurer and Board member. We welcome Aisling to the team and look forward to working with her. The minutes are available in pdf format for download at the bottom of this page. 
LIFE-ENPE Project completed and Final Report submitted
The 5-year EU LIFE Programme-funded LIFE-ENPE project has completed with the LIFE-ENPE Final Report submitted on 13 November 2020. All shareable project deliverables and outputs are available via this website. We are grateful to the EU LIFE programme for the funding and to our project partners, working group members and stakeholders who have all contributed to what has been a very enjoyable, challenging and worthwhile project. For more details please see the EU LIFE project pages. 
LIFE-ENPE Working Group Final Reports published - August 2020
As the LIFE-ENPE project concludes, the four Working Groups have finalised and published their Final Reports, which include training materials, guidance and awareness raising information where available for sharing. Please visit the Working Group pages to download a copy in pdf format.
United Nations Environment Programme (UNEP) Quarterly update on Environmental Governance - May 2020
Please see below a message from The United Nations Environment Programme (UNEP) relating to their recent quarterly update, available via the link below: 
"UNEP stands in solidarity with the billions of people around the world who are suffering from the impacts of COVID-19. While the world addresses the priority health and economic concerns relating to the pandemic, we need to monitor the impacts of this response on the review, development, implementation and enforcement of environmental laws. Sound environmental governance is critical to safeguarding human health, including the avoidance of future pandemics.
We are pleased to share with you our quarterly update for May 2020 on Environmental Governance. The update is quite extensive and features key highlights of the work of the Environmental Governance Sub-programme for the period January 2020 to April 2020."
https://spark.adobe.com/page/VQU9TsA4VDqWv/
Academy of European Law (ERA) make free training resources available online during Coronavirus pandemic
Our colleagues at the Academy of European Law (ERA) have adapted their training programme in response to the Coronavirus pandemic by offering their training materials, including guidance and case studies, 'online' via virtual downloadable packs and documents available through their website.
They have invited ENPE members to continue to participate in their training by providing access to these materials for free using the links in their pdf attached below.
These training resources, covering various legal topics, are freely accesible (not password-protected), and can be re-used by ENPE members. Most of them have been developed in the framework of EU projects led by ERA, including some of them (like the one on environmental law), with ENPE co-operation.Please do feel free to make use of these resources because they belong to everyone.
The ERA pdf with the links to the material is availabel below.
The EU LIFE-ENPE Project 2015-2020 draws to a close
After 5 years of busy, challenging and rewarding work, on July 17 2020, the EU funded LIFE-ENPE project activities were complete. The project outputs are now being prepared for submission to the Commission and for sharing where available to do so. Please chek the EU LIFE-ENPe project pages for updates including access to the project outputs over the coming months. the Final reporting is due to complete by mid-October 2020.
ENPE Board meeting 30 March 2020
The ENPE Board met by teleconference in the early afternoon of 30 March 2020. Meeting minutes are available in pdf format attached below. The next meeting is planned for early Summer.
ENPE Welcomes Four New Members 12 March 2020
Following approval from our Board of Directors, ENPE is pleased to welcome four new members to the network. The Office of the General Prosecutor of Hungary and the Prosecutor General's Office of the Republic of Lithuania have both joined as Full Members, and the Malta Police Force, as well as the Presidency of the Public Prosecution of the Kingdom of Morocco have both joined as Observer Members. We welcome all our new member organisations and look forward to working with them in the fight against environmental crime. ENPE membership now stands at 41 different organisations and individuals registered as Full, Supporting and Observer members, as per our Statutes. Please contact shaun.robinson@environment-agency.gov.uk for more details of our membership group and for enquiries relating to joining ENPE.
ENPE at the United Nations Climate Change Conference COP25 13 December 2019
The UN CC Conference COP25 took place under the Presidency of the Government of Chile, and was held with logistical support from the Government of Spain, in Madrid from 13-15 December 2019.
In this context, the Spanish Ministry of Justice were asked to organise four workshops dealing with environmental issues, including one tackling urban air pollution and one on pollution produced by large cruise ships. Under the direction of ENPE Director and Chief Public Prosecutor for Environment and Land Planning at Spain's Fiscalia General del Estado, Antonio Vercher Noguera and ably supported by ENPE Vice-President Rob de Rijck and LIFE-ENPE Working Group 3 (air pollution) member Dr Horst Buther, all workshops were very successful.
More details can be found here: https://cadenaser.com/programa/2019/12/12/la_ventana/1576177796_592593.html and here: https://amp.elmundo.es/madrid/2019/12/13/5df3bdb421efa0e36f8b4603.html
GENVAL Report Press Release
The EU networks of environmental regulators (IMPEL), police (EnviCrimeNet), environmental prosecutors (ENPE) and environmental judges (EUFJE) released a joint statement in which they call on the EU institutions and the Member States to support the effective enforcement of environmental rules and to better protect the environment.
Specialisation in environmental law is absolutely crucial throughout the enforcement chain. Not only the administration, but also police, prosecutors and judges should have specialised units for environmental cases; they should be organised in a structural way and anchored in law.
The 8th round of mutual evaluations (GENVAL) was devoted to the practical implementation and operation of the European policies on prevention and combating environmental crime. In the course of 2017 and 2019 the EU member states were evaluated in this regard. for more details, please see the full press release which is available for download below.
ENPE Board meeting 06 December 2019
ENPE held its last Board meeting on 06 December 2019. The meeting was conducted via teleconference and the minutes are attached below in pdf format. The next meeting is planned for 26 March 2020 in Genval, near Brussels.
ENPE annual conference 2019 held jointly with EUROJUST in The Hague
ENPE held its 2019 annual conference in conjunction with EUROJUST, the EU's Judicial Co-operation Unit, at their offices in The Hague, Netherlands from the 28-30 October. The conference, titled: "international collaboration and co-operation in the fight against environmental crime" was focussed on tackling the transnational aspect environmental crime, and how collaborative working between networks, organisations, governments and individuals, can strengthen those fighting criminatlity in this area. More than 100 delegates from four continents worked together, contributing to plenary, break-out and workshop sessions to share experience and take part in exercises with the common aim of bringing illegal activities affecting the environment to justice.
For more information, please find the conference programme which is available for download below. A conference report, in the form of an electronic magazine ("E-zine"), will be available via this website in the coming days.
ENPE aisbl Board meeting 29 July 2019
The ENPE aisbl Board met at the ENPE registered office in Scotland House, Brussels on 29 July 2019 for their most recent meeting. Please see below for the minutes. The next meeting will be the General Meeting which will be held at the end of the first day of the annual conference, 29 October 2019, at the EUROJUST headquarters, The Hague. More details, including the General Meeting agenda will be shared in due course.
ENPE newsletter April 2019 
We are pleased to share with you our latest ENPE newsletter. Please see below for a downloadable version. As always, we welcome feedback and suggestions for improvements and inclusions in the next edition.
ENPE aisbl Board meeting 04 April 2019
The ENPE aisbl Board met in The Hague, Netherlands at the Eurojust headquarters on 04 April 2019. Please see below for the minutes.
LIFE-ENPE Working Group Workshops: waste crime & air pollution; Nicosia, Cyprus 28-29 March 2019
LIFE-ENPE working groups 2 (waste crime) and 3 (air pollution) held consecutive workshops over 2 days at the Ministy of finance building, Nicosia, Republic of Cyprus. Both days comprised fascinating presentations from expert prosecutors and specialists and included case studies where waste crimes had been investigated and sanctions applied. There were also group activities and oportunities to network for the delegates. For more information, including viewing the presentations that are available for sharing, please contact shaun.robinson@environment-agency.gov.uk
ENPE 2018 conference "Protecting habitats and endangered species through tackling environmental crime"
The 2018 ENPE annual conference was held jointly with the Life Reason for hope project, the IMPEL Water Crimes group and the LIFE Natura-Themis project, who also hosted the event at the Natural History Museum of Crete in Heraklion, Crete, from the 23-24 October. A very full conference programme was enjoyed by 104 delegates from 56 different organisations and 26 countries. The conference outputs, including all available presentations are captured in an electronic magazine, or "E-zine" here:
ENPE Newsletter issue 7 October 2018 
Our latest newsletter, issue 7 October 2018 has recently been published and is available for download and onward sharing. As ever, detailing our activities, forthcoming events and interesting cases, we welcome your feedback and comment and hope you find it of interest.
LIFE-ENPE & LIFE Natura Themis Declaration of Co-operation meeting; University of Crete, Heraklion 26 June 2018
Representatives from the LIFE-ENPE project and LIFE Natura Themis project met up to share project progress and outputs, and plan to maximise the opportunity for collaborative working going forward. Both projects share the same over-arching objective of improving the prosecution of environmental crime and are working together in co-organising and hosting the forthcoming conference in Heraklon in October 2018 (see below). Both parties recognised the success of the meeting, and acknowledged the progress made already in the provision of tangible project outputs that are available for partners and stakeholders to tackle environmental crimes in europe.  
LIFE-ENPE Wildlife Working Group & CMS Joint Workshop article in EC Life journal & summary report now available for download (see below)
The recent successful joint LIFE-ENPE & CMS workshop in Segovia Spain has been reported on in the EC's Life & Wildlife crime publication. Please find the link for downloading the document below:
http://http://ec.europa.eu/environment/life/publications/lifepublications/lifefocus/documents/wildlife_crime_web.pdf
The summary report is now complete and available for download - please click on the link below to access.
ENPE announces annual conference details: 23-24 October 2018; Natural history museum of Crete, Heraklion, Crete.
We are delighted to announce news of our annual confernce for 2018, which includes us joining with two Life Porgramme-funded projects, with whom we have established strong working relationships, and a specialist Water Pollution crimes group from IMPEL. Please ensure you 'Save the Date' and see the flyer below for more details.
EC Directorate-general for Environment launches Environmental Complaince Assurance initiatve - ENPE position paper
The European Commission's Directorate-general recently confirmed their adoption of a 9-point action plan to increase compliance with, and improve guidance on EU environmental legislation. The actions will be implemened over 2018-19 with the help of European Environmental enforcement networks, including ENPE. Delivery of the actions involved a newly-established, high level expert group, The Environmental Compliance and Governance forum which met for the first time on 13 March 2018 with ENPE represented by our President, Anne Brosnan. For more details on the initiative please see the documents enclosed below including the ENPE position paper on the ECA.
ENPE at The Conference of Judges and Prosecutors on Water Justice and at the 8th World Water Forum; Brasilia, Brazil
This brought together over 140 distinguished partcipants from over 60 countries to engage in high-level discussions on the management, use and protection of freshwater resources. A key outcome was the approval of the "Brasilia Declaration of Judges on Water Justice", providing a set of 10 principles for guiding the legal community worldwide in the protection of water water ecosystems. ENPE was represented at the conference by International Vice-President Jean-Philippe Rivaud, and EUFJE were represented by Prof Luc Lavrysen, also a Board member of the LIFE-ENPE project. for more details please se: http://https://www.iucn.org/commissions/world-commission-environmental-law/events/upcoming-19-21-march-2018-conference-judges-and-prosecutors-water-justice-8th-world-water-forum-brasilia 
Celebrating IMPEL's 25th anniversary
The European Union Network for the Implementation and Enforcement of Environmental Law - IMPEL - is an international non-profit association made up of european environmental authorities, and one of ENPE's key partners. Like ENPE, IMPEL is registered in Belgium with its legal seat in Brussels, and comprises members representing organisations from across the EU member states as well as non-EU countries. It was established in 1992 at a meeting in Chester, England, as an informal network representing 12 countries. A period of growth has seen it now boast 51 members from 36 different countries, as it continues to make progress on its objective of more effective application of environmental legislation. Its collaborative work with other organisations, including ENPE, is significant and widely recognised. For more information about the network, including a summary of its activities over the past 25 years, please go to: https://www.impel.eu/impel-25-years-celebration-infographic/ 
EU environmental enforcement networks sign historic Memorandum of Understanding
At our recent annual conference, the EU Environmental Crime Enforcement Networks conference, held at Magdalen College on 20 & 21 September 2017, and in the presence of the EU Directorate General of Environment and the European Union Forum of Judges for the Environment (EUFJE), an historic Memorandum of Understanding (MoU) was signed by the Chairs of the three enforcement networks hosting the conference: ENPE; IMPEL and EnviCrimeNet.
This MoU, and its signing is a clear statement of intent from all three networks in their concerted action in the fight against environmental crime, and the strengthening in the chain of compliance to ensure effective environmental protection across europe. The EU hailed this signing as a necessary step in ensuring a common vision in tackling environmental crime, and delivering greater compliance assurance across Europe.
Capitalisation & Gap-filling report published and available for download; April 2017
The LIFE-ENPE Capitalisation and Gap-filling report, which analyses existing information on the prosecution of enviornmental crimes and associated activity across Europe (LIFE-ENPE Action A1), has been published and is available for download (please see pdf below). The report draws on information gathered via prosecution and sentencing statistics, corresponding with prosecutors and legal literature reviews of the 28 European Unions Member Statesto present a baseline analysis of "what we know about environmental crime, and crucially, how it is actually being tackled by prosecutors and judges across Europe".
THE ENPE aisbl Board
The ENPE aisbl (Association Sans-but Lucratif) meets four times per year and comprises the following members:
Anne Brosnan (UK) - President
Rob de Rijck (Netherlands) - Vice-President
Jan-Philippe Rivaud (France) - International Vic-President
Lars Magnusson (Sweden) - Secretary
Aisling Kelly (Ireland) - Treasurer
David Smith (Ireland) - Director
Antonio Vercher Noguera (Spain) - Director
The most recent Board meeting minutes are shared with members and are available for download as pdf documents below.
ENPE activities archive
Strategic Meeting in the Hague November 27-28 2013
ENPE and EUROJUST co-hosted a meeting called: Towards an enhanced coordination of environmental crime prosecutions across the EU: The role of Eurojust in The Hague The meeting brought specialised prosecutors from 27 countries in the EU and EFTA together. Eurojust has a key role in coordinating cross border criminal investigations in the EU. The help EUROJUST can offer in environmental investigations is described here.
The meeting was considered a success. The topics of the conference were severe organised crimes in trading in endangered species, illegal waste trafficking and water pollution.
Read the agenda as a PDF-file here.
Read the report Strategic Project on Environmental Crime as a PDF-file here.
EU Environmental Enforcement Networks Conference May 12-13 2016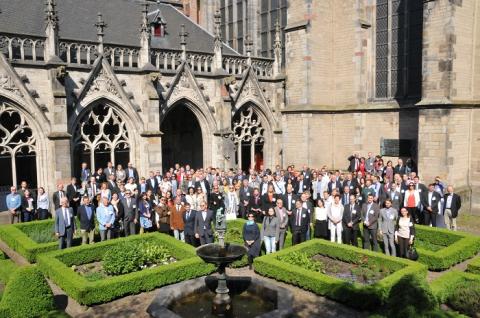 For the first time, four key European Environment Networks joined together to host a conference, held 12 and 13 May 2016 in Utrecht, the Netherlands, of 194 participants from 35 countries in Europe with the explicit task of working to strengthen enforcement of EU environment and nature law and the compliance chain as a whole.
A high level of environmental protection is one of the fundamental objectives of the EU. The four networks all share the same aim of contributing to improving good implementation and enforcement of EU law that results in the safeguarding of health and our citizens well being.
Working with their key partner, the European Commission, this conference has provided a forum for highlighting common challenges and practical solutions whilst examining case studies that help the less experienced to learn from more experienced practitioners.
The organising partner networks in their closing statement reaffirmed the value of always seeking to make the polluter pay and tracking down and recovering the proceeds of crime; and that they are optimistic about the future of our networks and our ability to provide a strong response, as regards punishment and deterrence to those who might contemplate involvement in environmental crime.
They recommended that European enforcement projects with strong elements of capacity building and training as well as the sharing of information are key practical steps going forward to improve the compliance chain.
Read the press release here.
ENPE aisbl Board Members signing - July 4th 2016
Before being incorporated as an International Non-profit Association (ENPE inpa or ENPE aisbl in French), the Board Members had to sign to confirm their position in this new organisation. This event took place on July the 4th at Scotland House in Brussels, and preceded the provision of Royal Decree to incorporate the new association (ENPE aisbl) as a registered non-profit association in Belgium. The first ENPE aisbl Board meeting took place in Brussels on October the 14th.
EUFJE Annual conference - Tribunalul Bucuresti, Bucharest, Romania, November 18th & 19th 2016
ENPE were represented at the EUFJE Annual Conference in Bucharest by LIFE-ENPE Project Manager Shaun Robinson, who provided a presentation on the ENPE Life project to the international group of judges who had gathered from across Europe. Full programme details and the pre-conference questionniaire are available below and from the EUFJE website.